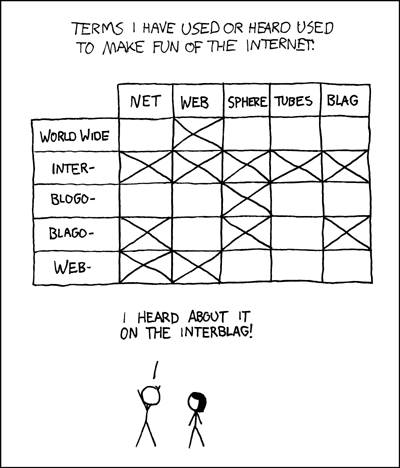 Blog Genre Assignment!
What is a blog? We have been using them to keep track of our reading responses in this class without deeply exploring what a blog actually is. This assignment will take you through a number of well-known blogs that people write on a number of different subjects. I hope it will give you a better idea of what you can do with your own blog.
Part 1: Blogs on the internet
Please take a look at the following blogs. Read at least one entry in depth and explore their website. Look for similarities and differences between them. Treat this like our genre practice assignment in class last Wednesday. How are they similar or different in form? How are they similar or different in content?
blag.xkcd.com
Personal blog by a guy who draws a comic strip (Please checkout xkcd.com too, the blog goes with the comic)
wilwheaton.typepad.com
Personal blog by Wil Wheaton, former child actor
Cake Wrecks
Blog about ugly cakes
The Post Punk Kitchen
Blog about vegan cooking—very pretty pictures
Five Thirty Eight
Political blog
Bad Astronomy
Science blog
43Folders
Blog about how to get more organized and be more productive
A Nun's Life
Blog about being a Catholic nun 
Blog @ Newsarama
Blog about comic books 
Freakonomics Blog
Blog about economics
Kotaku
Video game blog
io9
Science fiction blog
Part 2: Features of the Blog Genre
There are some features that a blog often contains that we have not explored yet in class. We have only posted writing to our blogs. This section of the assignment asks you to log into blogger.com and edit your blog to add these features.
1. Blogs often contain a description of what is written about in them. Click on the "Settings" tab in blogger so that you can view the "Description" box. Write a description of your blog in 500 characters or less (that's 500 letters, not 500 words). Add this to your blog and save it.

2. Bloggers usually include a short bio or description of themselves. Click on the "Layout" tab, and then click on "About Me" bar to add a profile to your blog.

3. Blogs often contain a sidebar with links to other blogs or websites. Some of you are already using the "follow" feature of Blogger to link to each other's blogs. You can also link to other websites, or add additional features to your sidebar automatically. Click on the "Layout" tab and then click on "Add a Gadget". A menu will pop up that allows you to add many different features to your blog. Play around with them and add any that you think are interesting—there are hundreds of blog gadgets that you can add in many different categories!

4. Blogs almost always allow other people to write comments about your post. We have not yet done this as part of an assignment. Please read the blogs of some of your classmates (we all posted links to our own blogs on ANGEL and they are still there) and comment on an entry on at least two of your classmates' blogs.
Part 3: Final note
When you have completed all parts of this assignment, please comment on this blog entry with a link to your blog so I can take a look!